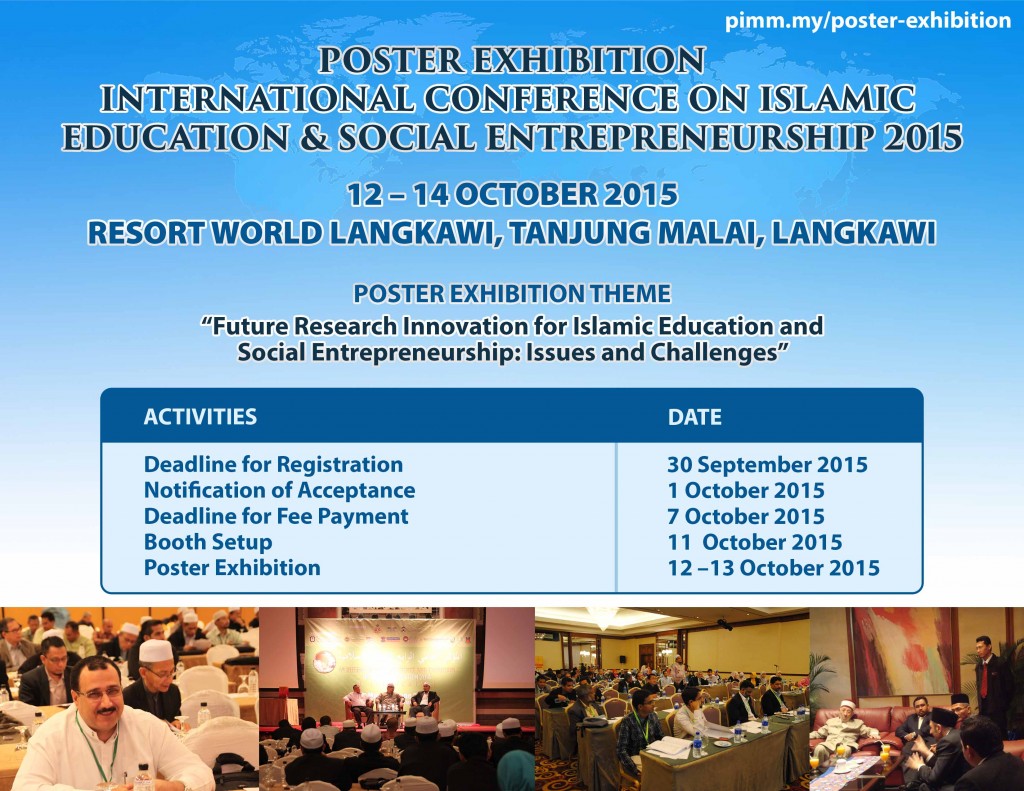 INTRODUCTION
Poster Exhibition is one of the programme in the International Conference On Islamic Education and Social Entrepreneurship 2015 (ICIESE2015). The purpose of this research competition is to promote research findings and innovation in the field of Islamic Education and Social Entrepreneurship by exhibiting it to the public. This exhibition is also an ideal platform to strengthen networking and enhance collaboration among researchers, educational institutions and industry.
POSTER EXHIBITION THEME
"Future Research Innovation for Islamic Education and Social Entrepreneurship: Issues and Challenges"
IMPORTANT DATES
| | |
| --- | --- |
| Activities | Date |
| Announcement for Exhibition | 1 July 2015 |
| Deadline for Registration | 30 September 2015 |
| Notification of Acceptance | 1 October 2015 |
| Deadline for Fee Payment | 7 October 2015 |
| Booth Setup | 11  October 2015 |
| Poster Exhibition | 12 – 13 October 2015 |
EXHIBITION FORM
Please return the exhibition detail such as full name, position, institution, full address, phone number, email and poster designed to iciese2015@gmail.com by 30 September 2015. Thank you.
POSTER
The main content of the poster must include: Title of Research, Background/Problems, Objectives, Methodology, Findings/Applications, Novelty/Implications
Poster will be printed by the organizer.
Specification of poster must be 6 feet x 3 feet. Include only relevant figures of high quality and resolution (not blurry image, at least 300dpi).
Researcher's photos and details must be attached.
PRESENTATION
Researchers/Participants are  encouraged  to  prepare  a  simple  slide  for presentation purposes during judging session.
Research should be presented in 10 minutes (1 minute for introduction, 3 minutes for explanation, 1 minute for conclusion and 5 minutes for Q & A session).
Presentation must be in English or Malay.
RESEARCH CATEGORY
Participation in this research exhibition will be divided according to the categories as follows:
Research Project
Master and PhD Research
EVALUATION CRITERIA
Novelty: Novelty of research and contribution to body of knowledge.
Usefulness: Relevance of the research in solving problem (s) and contribution to education.
Recognition: Academic publication – journals, books, proceeding & etc.
Presentation : Researcher's knowledge about research.
REGISTRATION
Registration is on-line through exhibition form:
Only complete application will be certified to participate in the research exhibition.
EXHIBITION FEES
| | | |
| --- | --- | --- |
| Status | Fees (Exhibitor only) | Fees (Presenter and Exhibitor) |
| Local | MYR 350.00 | MYR 100.00 |
| International | USD 120.00 | USD 50.00 |
*The exhibition fee includes conference materials, meals & refreshment (as in programme tentative) and covers for one exhibitor/participant only.